Coconut Cup Keg Competiton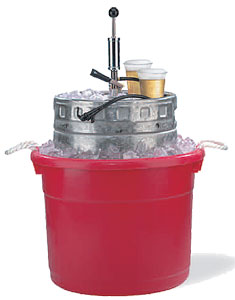 To enter the Coconut Cup Keg Competition, please complete the contact sheet at the bottom of this page.
There is no entry fee for this competition. Your beer is the entry fee.
Entries are limited to one keg per brewer.
The Coconut Cup Keg Competition is a winner takes all contest with a single  champion. This is a "people's choice" award judged by any Coconut Cup participant in  attendance. Each participant receives one vote and will be asked to select his/her favorite brew. A simple majority will decide the winner.
The winner will receive a hand-carved tap handle, expertly crafted by MASH member Dan Barrett.
Entrants will not be provided with a BJCP scoresheet.
The event will take place outside the main room during the BOS judging.
Entries for the Keg Competition must be registered by Friday, February 14th. Kegs can be delivered to Matt Crawford at M.I.A. Beer Company on Friday, February 21st, but must be received no later than noon on Saturday, February 22nd.
Ball lock or pin lock kegs may be used for the entry and should contain at least 2 gallons of beer. The club jockey box can accommodate up to 6 kegs. Please bring a picnic tap and gas connect in case we are overwhelmed with entries. The club will provide C02, cooling, etc. to serve the entries.