COMMANDER SAAZ INTERPLANETARY HOMEBREW BLASTOFF (Entry Registration and Delivery)**CANCELLED **
When:
August 7, 2020 – August 23, 2020
all-day
2020-08-07T00:00:00-04:00
2020-08-24T00:00:00-04:00
Where:
Jimmy Johns
760 N Wickham Rd
Melbourne
FL 32935 C/O Commander SAAZ 2020

26th ANNUAL
COMMANDER SAAZ
INTERPLANETARY HOMEBREW BLASTOFF
September 26, 2020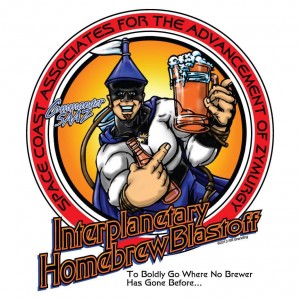 Commander SAAZ Interplanetary Homebrew Blastoff is the homebrew competition hosted by SAAZ every fall. Yep, it's the one where you can have your entries judged by rocket scientists. Unfortunately, this year we're going to have to scale things back A LOT. You're all well aware of how all our lives have been turned upside down this year, and so we don't need a long explanation as to WHY. Hopefully, next year will have us all looking forward to the Florida Circuit, our usual unlimited competition and multi-day "party at the beach," but we're hoping this smaller, limited competition will provide a small respite for our Florida homebrewers. We apologize in advance for not being able to invite our homebrew friends outside Florida and we're sorry if your favorite styles didn't make the cut, but we felt that limiting both the geographic area and the number of homebrew categories were necessary to accommodate the scaled down competition. We felt that a smaller number of categories would make for better stylistic judging than combining a bunch of very different categories into awkward groupings.
Due to the ever-changing situation with COVID-19, we've chosen to make a public Facebook event page the main information center for this year's competition (since it's public, you won't need a Facebook account to get to it). Should a sudden change be necessary in shipping location, judging sessions, etc., the Facebook information can be quickly and easily changed by any of the SAAZ Officers, unlike having to do a website update. Also, if you have a Facebook account and click GOING or INTERESTED on the Facebook event page, you'll get an update in your Facebook feed letting you know that a change was made. After the initial week of getting all the info settled out on the event page, we'll put a "Last Updated" date on our SAAZ home page as well to let you know when any of the information significantly changes.
The 2020 competition basics for the Commander SAAZ Interplanetary Homebrew Blastoff…
350 Maximum Total Entries
Limited to Florida Homebrewers Only
Limited to 2 entries per brewer, 1 entry per brewer per category
8 Specific Beer Categories (Maximum entries of 35 per category)
1 General Mead Category (Maximum 35 entries)
SAAZ's Special Rocket Fuel Category (Maximum 35 entries)
Entry registration and submission: August 7-23
Judging: September 5-20
Virtual Awards Ceremony: September 26