Commander SAAZ Entry Window
When:
July 26, 2019 – August 25, 2019
all-day
2019-07-26T00:00:00-04:00
2019-08-26T00:00:00-04:00
Where:
Hilton Cocoa Beach Oceanfront
1550 N Atlantic Ave
Cocoa Beach
FL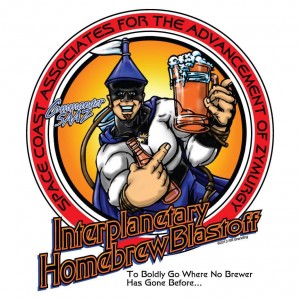 Commander SAAZ Interplanetary Homebrew Blastoff is the homebrew competition hosted by SAAZ every fall. Our competition features homebrewed beers, meads, ciders and rocket fuel from all over the country. It's one of the largest competitions in Florida… heck, in the Southeast! And, it's the one where you can have your entries judged by rocket scientists!
The launch preparations are underway, and the countdown has begun. Please check back here around mid-June for all the information you'll need regarding the competition and related dates, and get the scoop on the fun-filled event weekend we're planning at the Cocoa Beach Oceanfront Hilton. Yes, oceanfront… beach, sand, waves, volleyball, tiki bars, negative ions and all that, in addition to beer, of course!
NEW THIS YEAR! We're going to debut the "Commander's Cup," a special homebrew club/guild award that's unique to our event and for which our own club will not be eligible. Also, we'll be posting information very soon on our Club Keg Competition at Friday night's Commander's Call party. Details to follow, but the main guidelines are, 1) One keg per club, so bring your BEST, and 2) The recipe must include a "space component." No, we don't expect you to throw in any moon rocks, but think Apollo, Galaxy, Polaris, Comet, Orion….
If you have any questions, comments, suggestions, feedback, pictures to share, anything Commander SAAZ related, please email our Mission Commander at commander@saaz.org.
Important Dates
REGISTRATION WINDOW: July 26 – August 25
ENTRY DELIVERY/RECEIPT WINDOW: August 5 – August 25
BOTTLE SORTING: August 31
EARLY ROUND JUDGING: September 7 & 8 and September 14 & 15
COMPETITION WEEKEND: September 20-21
COMMANDER'S CALL PARTY: September 20
SPLASHDOWN AWARDS DINNER: September 21