Commander SAAZ – Entry Window Open
When:
July 13, 2018 – August 23, 2018
all-day
2018-07-13T00:00:00-04:00
2018-08-24T00:00:00-04:00
Where:
Radison Resort at the Port
8701 Astronaut Blvd
Cape Canaveral, FL 32920
USA

24th ANNUAL
COMMANDER SAAZ
INTERPLANETARY HOMEBREW BLASTOFF
September 14 & 15, 2018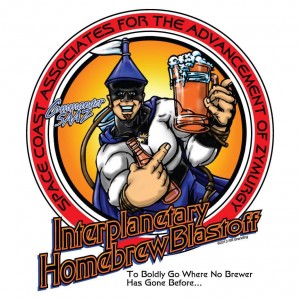 Commander SAAZ Interplanetary Homebrew Blastoff is the homebrew competition hosted by SAAZ every fall. Our competition features homebrewed beers, meads, ciders and rocket fuel from all over the country. One of the largest competitions in Florida, and the one where you can have your entries judged by rocket scientists.
In September 2017, Hurricane Irma came through and aborted the Commander SAAZ 2017 launch, damaging the event venue so badly that the weekend festivities had to be cancelled. Fortunately, SAAZ members were able to invoke their disaster recovery procedures to salvage the competition portion of the event. This year, the Commander and his entire crew are looking forward getting back to a full weekend of competition and camaraderie with other home brewers. The launch preparations are underway, and the countdown has begun!
If you have any questions, comments, suggestions, feedback, pictures to share, anything Commander SAAZ related, please email our Mission Commander at cmdr.saaz@saaz.org.
Important Dates
REGISTRATION WINDOW: July 13 – August 23
ENTRY DELIVERY WINDOW: August 2 – August 23
BOTTLE SORTING: August 24
EARLY ROUND JUDGING: September 1 & 2 and September 8 & 9
COMPETITION: September 14-15
COMMANDER'S CALL: September 14
SPLASHDOWN AWARDS DINNER: September 15
Locations
ENTRY SHIPPING: Brock's Homebrew Supply, 7025 Industrial Road, Melbourne, FL 32904
ENTRY DROP-OFF: Iron Oak Post, 2023 Melbourne Ct., Melbourne, FL
EARLY ROUND JUDGING: Iron Oak Post, 2023 Melbourne Ct., Melbourne, FL
FINAL JUDGING, COMMANDER'S CALL, SPLASHDOWN: Radisson Resort at the Port,
8701 Astronaut Boulevard, Cape Canaveral, FL
Quick Links
REGGIE – Register your competition entries
ENTER COMMANDER SAAZ – More details about entry
JUDGE or STEWARD AT COMMANDER SAAZ– Register to join the mission team
PURCHASE TICKETS – Join SAAZ for the best party on the beach (Coming Soon!)
HOTEL INFO – Stay safe… no drinking and driving please!
COMPETITION RULES– The boring but important stuff
LIVE FEED/PHOTOS– Can't make it? You can still watch the debauchery online
(Coming later!)
RESULTS – See the winners from past years, and this year once the competition is completed